Who We Are

Introduction :
Constellation Healthcare Technologies provides a holistic, integrated suite of practice management support services to hospitals and medical practices across the United States.
Our mission is to work in partnership with our clients to lead the evolution of the Health Care industry. Together, we help our clients bring innovations in patient care to life. We enable our clients to seamlessly access and integrate patient data, diagnostic data, lab and test data, and pharmacology data to improve the quality of care for their patients, while providing automated and optimized technical and logistical support to create and sustain long-term, bottom-line success for our clients.
Industry Challenges :
The Healthcare Industry faces many new challenges that are coming together to reduce physician earnings by increasing practice costs and complexity. Multiple health plans, intricate reimbursement methodologies, complex regulatory issues, increased patient responsibility for payments, and growth of the uninsured consumer, are the major drivers of the changes; however mandated use of technology (EMR), and increased dependence on mobile applications by consumers are also contributing factors. These change drivers are responsible for significant downward pressure on the bottom lines of many healthcare organizations.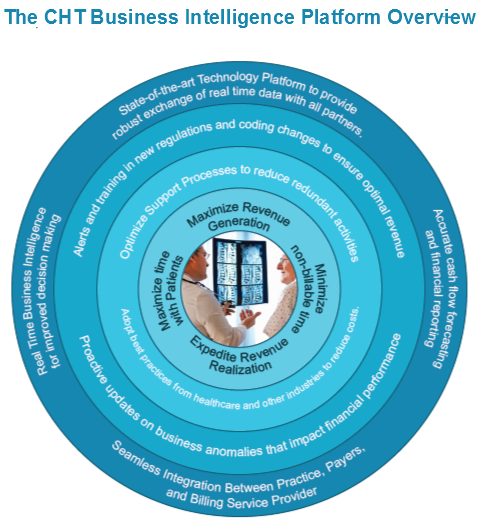 Unlike many other industries; the medical industry has not adopted and embraced process improvement and automation technology resulting in an industry ripe for optimization. Improving financial performance requires specific knowledge of medical practice processes and business acumen. This knowledge must be focused on optimizing the inadequate revenue cycle processes in order to maximize profitability. It also requires investments in new technologies such as voice recognition, automated coding, claims, and payment processing, EHR, and business process workflows. Constellation Healthcare Technologies is uniquely positioned to assist the medical profession on this journey of change, transformation, and optimization.
We bring together over a decade of industry experience and innovation. Our staff of industry professionals has the skills and experience necessary to deliver a complete range of health care and advisory services across all sectors of the Health Care industry.