Pegasus Knowledge Center

A New Business Model for Medical Practices
Most Healthcare literature published over the past 5 years has focused on the many negative forces combining to reduce the earnings of Healthcare practices and Healthcare professionals. There is no doubt that these dire warnings and reports of actual negative impacts are accurate and precise. There is no shortage of evidence to support the claims of industry pundits that dramatic changes to the Healthcare Industry were just around the corner and across the board cuts in reimbursements, increased regulatory complexity, and rising costs would dramatically reduce Industry profitability. The Healthcare Industry is being buffeted by a tide of rising costs, while at the same time government and private payers are making the reimbursement process more complex and less lucrative for practioners who have invested heavily in their own education and their practices. The situation in the Healthcare Industry today is closely analogous to the situation in most other industries in the early 1970's. Foreign competition, deregulation, unions, and new technologies were driving costs up and profits downward. The companies that survived the turmoil of those gut wrenching days have dramatically lowered their costs, increased the quality of their products (self-parking cars, with GPS, rust proof exteriors, and low maintenance costs vs. rust buckets that required constant maintenance, and the only electronics were cruise control and stereos). Clearly the winners were able to become profitable by changing their business models. The innovators and visionaries in the Healthcare Industry are already working on a new business model.
Figure 1. New Business Model for the Medical Practice of the future.
As the CEO of Pegasus Blue Star Fund, a private equity fund specializing in Healthcare Services Investments, I have over 20 years of experience investing and managing Healthcare Services companies in the areas of Cancer treatment centers, Surgery centers, Practice management, Medical Group Purchasing Organizations, EHR, Medical Revenue Cycle Management, Patient Portal, Claims Optimization, Claims Authorization, Patient collections, Bad debt collections etc. At a recent symposium for Healthcare professionals I explained to the attendees that "The key components required for success in the Healthcare Industry are all available in raw form. Companies like Constellation Healthcare Technologies are refining the components and providing a seamlessly integrated platform to deliver superior patient care at the lowest cost to the medical practice, while at the same time maximizing collections and minimizing accounts receivable time." Constellation Healthcare Technologies is leading the design of the new business model for the Healthcare Industry. This article will outline the components of the new model and describe how they will work together seamlessly to provide a new integrated platform for healthcare service delivery.
To understand what is necessary to optimize a medical practice there has to be a comprehensive business model that clearly depicts the business processes and their success and risk factors. Figure 1, above, provides a holistic view of the new business model for medical practices of the future. While this is a good conceptualization of the new business model, it lacks a critical component, how will each practice transition from the business model they are using today to the new business model described below?
The most successful practices will be the ones that are able to transition to the new model by optimizing all of their processes using a seamless workflow to ensure that all data is entered only once and then it is controlled and secured to ensure 100% compliance and complete elimination of redundant data entry. The practices that cling to paper and non-integrated processes will continue to see their income decline and they will miss the opportunities to cash in on the many new opportunities to enhance revenue. For many practices just the words process and integration bring a feeling of dread over the entire organization, but it does not have to be that way. There is now a viable alternative to doing the entire transition in-house. The largest of the RCM providers today are offering world class business outsourcing services based on Healthcare Industry best practices. These service offerings can be carefully combined to deliver a tightly integrated and seamless combination of internal and externally supplied processes/services resulting in a holistic business model, but without the risks inherent with a completely in-house transition to the new business model.
Dale Brinkman, CEO of Orion HealthCorp is an example of the new visionaries that are taking control of a few of the largest Healthcare Service Providers. Currently Orion is the 5th largest service provider in the Revenue Cycle Management space, offering Billing, Coding, Credentialing, Denial Management, Practice Management (Financial Reporting and Accounting, Human Resources and Payroll, Office Management, and Purchasing) Group Purchasing for vaccines, insurance, etc. (GPO), and Business Intelligence. Recently Dale outlined Orion's strategic plan to provide an integrated solution for medical practices across the country. Dale stated that Orion has developed a world class medical business intelligence tool that is designed to provide Orion clients with a holistic view of their business. In addition to a detailed breakdown of every procedure performed by the practice, the tool is able to provide cost and revenue data associated with each procedure (see graphic below). By providing strong client support that includes monthly practice performance assessments and optional practice optimization consulting Orion is able to ensure that their clients are able to avoid audits and penalties, and earn incentives for meaningful use, quality, and productivity. The built in automation ensures accelerated cash flow. Coding specialists audit every charge, ensuring maximum billing for each procedure. The Orion GPO provides Healthcare practices with the purchasing power of a large organization, while allowing the practice to remain independently owned and unaffiliated. Mr. Brinkman proudly points out that Orion is well on the way to meet the needs of the medical practices, searching for service providers who can partner with them to successfully transition to the medical practice business model. Orion provided the figure below to help us understand the scope of the business intelligence tool they feel is necessary to support the new business model.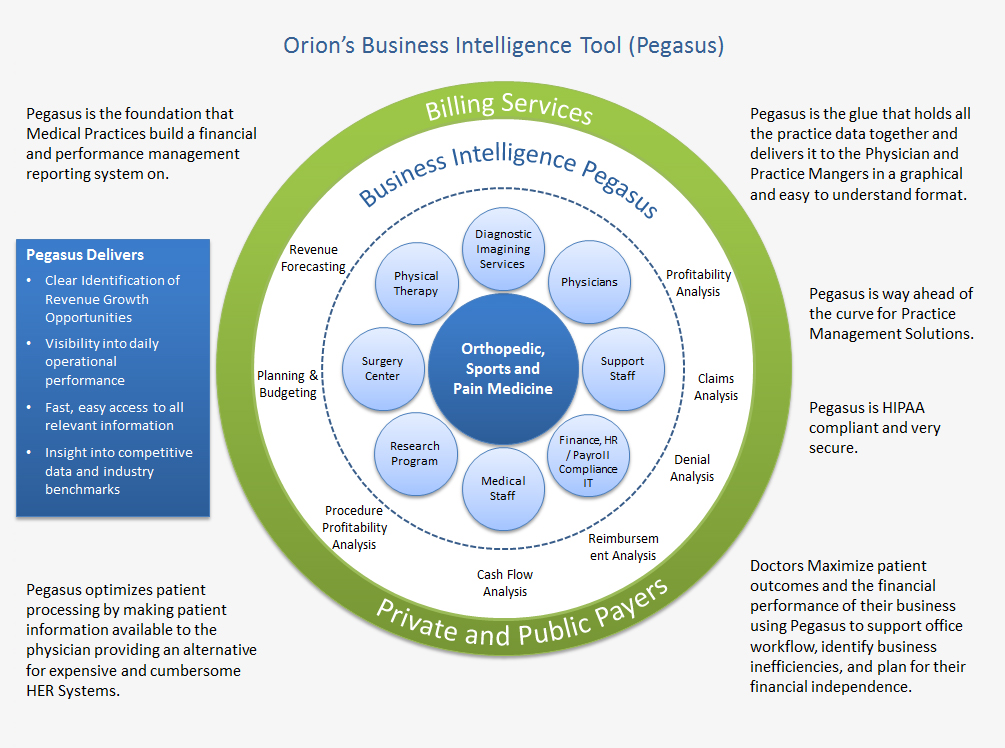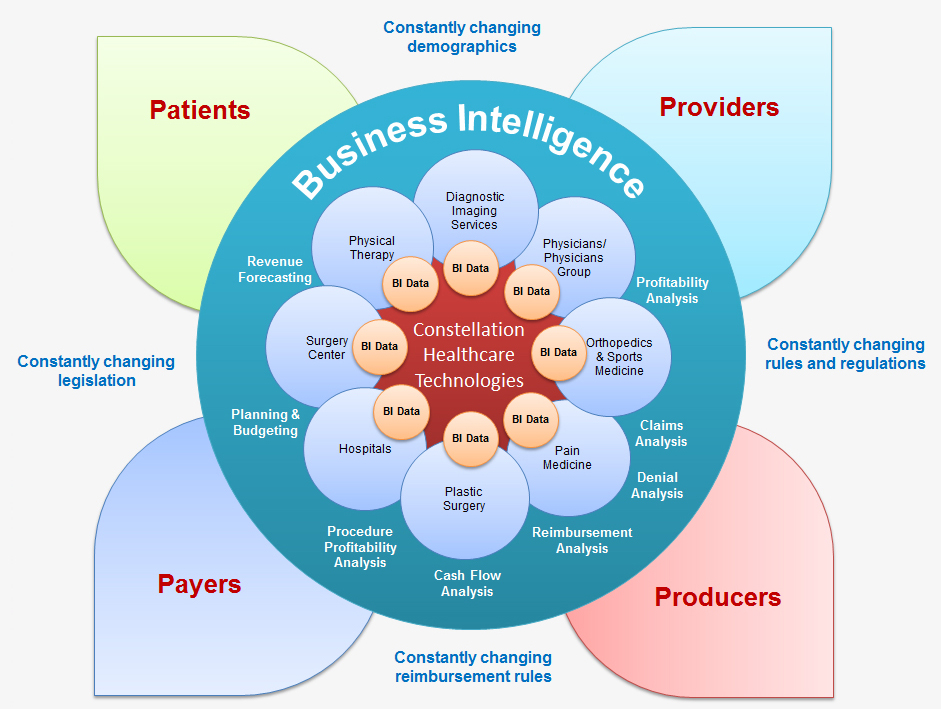 We have spoken to practice managers from all types and sizes of practices and the most common concern we hear is that the managers are unsure whether or not their organization will be able to make this transition, even with the support from their current RCM partner. Clearly the transition to the new business model is not viewed as a low risk and high reward undertaking.
Recently the practice manager of one of our largest clients contacted me for advice because he was under a lot of pressure to improve profits for the practice. I replied that "Medical practice managers will soon realize that if they do not adopt innovation, automation, and optimize their processes and systems they will be replaced by someone who will. Driven by this industry pressure, there is an increasing move toward partnering with large service providers to leverage their technology, professional expertise in coding, billing, finance and accounting, practice management, and compliance, in addition to their GPO offerings, and the deep knowledge of the nuances of each medical specialty provided by their practice management consultants. These Healthcare Service Providers will ultimately provide the solution for the beleaguered practice manager." Although this response did not make our client feel more comfortable, it did spur her to begin a process improvement initiative with Orion as a partner for process improvement.
It is already possible to describe the basic characteristics of the successful practice of the future. By looking at the solution model on the previous page it becomes clear that the new model for successful medical practices will have the following common characteristics:
Patient Focus:
Patient portal for service scheduling and records lookup
Patient information collected and validated prior to visit
Patient information updated in real time (clinical and financial information)
Quality of service tracked and recorded by patient
Electronically enabled:
Electronic Health Records
Electronic Procedure and Diagnosis Documentation
Demographic information validated by external databases (used by financial institutions today)
Fully integrated systems (PM --> EHR --> RCM --> CMS/Insurance/etc.)
No duplicate data entry, data corrected in one system seamlessly passed to all others
Business Intelligence and Analytics
Process Oriented:
Pre-visit process and activities
Visit processes (clinical and financial)
Charge and Billing Process
Payments and Collections Process
Insurance Processes (credentialing and contracting)
Administration (Management, HR/Payroll, Accounting/Finance, etc.)
Quality and Performance Focused:
Compliance Management
Performance Metrics and Key Performance Indicators
Quality Management and continuous improvement
Information based decision making
Our studies have shown that practices that optimize their processes achieve the following improvements for their practice:
1) Up to a 25% reduction in administrative costs and billing losses
Staff reduction,
Paper supplies,
Records Storage,
Bad debt, write-offs, and charity care,
2) Between 2 and 4% increase in patient revenue
Recurring increase, not a one-time bump
3) Days in Accounts Receivable are reduced by 15 - 30%
4) Perhaps as important, employee morale is increased
Professional Staff and
Clerical Staff
For large Healthcare Organizations it may make sense to retain senior level consultants to assist with the optimization of internal processes and systems, as all of the fortune 100 companies did around the turn of the century; however, for small and midsize practices the solution that makes the most sense is to outsource large portions of the back office processes and adopt the use of their technology, processes, and expertise, thereby acquiring the benefits of a large organization without the overhead costs associated with a large organization. This is where companies like Constellation Healthcare Technologies, and Orion HealthCorp are able to provide the consulting services to optimize the internal processes, and the technology, processes, and expertise to support any processes that cannot be done cheaper internally. The added advantages that accrue from adopting an outsourcing partner include the world class reporting, the Business Intelligence tools, and the expert on-going advice provided by a partner who only makes money when you do.
With all the pressures on the Healthcare Industry, it is sometimes difficult to see the financial incentives available through CMS and the opportunities to increase profitability by reducing costs through process optimization and selective outsourcing. Processes that can be done cheaper and more effectively using partners whose sole focus is making their processes as efficient as possible will be performed by partners for most small and midsize practices. In the next 12 months medical practice owners and managers will create a trend to outsource billing and all business processes not directly interacting with the patient face to face. It is interesting to see that even many large Healthcare Organizations are choosing to outsource some of their processes to avoid the training and staff turnover complications and associated costs involved with an in-house operation. Joe Seale, President of Orion HealthCorp and responsible for Operations at RAND, RMI, MBS, WSB, and NEMS informs us that his operations teams are seeing a rapid increase on the number of clients and perspectives who are demanding a more complete suite of RCM solutions to help them transition to the business model of the future.
Paul Parmar
is a thought leader in the Private Equity Space. His primary focus is on transforming industries by creating new business models and optimizing the key business processes in each business and leveraging the appropriate technologies. Although he has successfully owned and managed businesses in several industries (the Healthcare, Private jet industry, the media and entertainment, and Real Estate development) his passion is clearly in the healthcare industry. His Healthcare investments are in the areas of Cancer Centers, Free Standing Surgery Centers, EMR, Patient Portal, Practice Management, RCM Services, RCM software, and GPO's for Physicians. Most recently he has turned his sights on dramatically reducing the cost of healthcare by investing in medical practice management. Mr. Parmar's most recent investments in healthcare are focused on optimizing the business practices, improving the financial transparency and lowering the cost of operations for hospitals and large medical practices.
Pegasus Blue Star Fund

is a private equity fund specializing in Healthcare Services Investments, with 20+ years of experience of investing and managing Healthcare Services companies in the areas of Cancer treatment centers, Surgery centers, Practice management, Medical Group Purchasing Organizations, EHR, Medical Revenue Cycle Management, Patient Portal, Claims Optimization, Claims Authorization, Patient collections, Bad debt collections etc.