Pegasus Knowledge Center

Taking Risk out of outsourcing RCM - Physicians Revenue Cycle Management
For most industries outsourcing a portion of their business is a common practice. Pratt & Whitney, a subsidiary of United Technologies, realized that if it wanted to sell jet engines to foreign countries, they would have to outsource some of the manufacturing process to those countries as a trade off-set. They began out sourcing their manufacturing in the late '70s. Financial Services companies have outsourced their credit card processing from the very beginning. ADP provides outsourced HR and Payroll services to over 620,000 businesses in 130 countries. Companies like Accenture, CSC, WIPRO, INFOSYS, etc. provide IT services to very large companies around the globe. The Healthcare Industry has been very slow to adopt the outsourcing business model. Admittedly there are a growing number of healthcare practices who are outsourcing their Revenue Cycle Management processes to professional RCM companies, but we have not seen the wholesale embracing of the business process outsourcing (BPO) business model that we have observed in other industries. I spoke to Dale Brinkman, CEO of Orion HealthCorp, to get his perspective on the situation in the industry today. Mr. Brinkman shared his experience dealing with healthcare practices over the past 20 years. According to Mr. Brinkman; "The number one issue that must be addressed when working with clients to help them reduce their operating costs and increase the quality of the deliverables is overcoming the perceived high risk of outsourcing."
As the CEO of Pegasus Blue Star Fund, a private equity fund specializing in Healthcare Services Investments, I have over 20 years of experience investing and managing Healthcare Services companies in the areas of Cancer treatment centers, Surgery centers, Practice management, Medical Group Purchasing Organizations, EHR, Medical Revenue Cycle Management, Patient Portal, Claims Optimization, Claims Authorization, Patient collections, Bad debt collections etc. In this unique position, I have been on both sides of the BPO table. As the owner of BPO service providers I have worked to provide our clients with high quality, cost effective service at minimal risk to their businesses and as owner of healthcare practices I have negotiated BPO agreements that did not increase my business risk. In this article I will share strategies that I have developed to ensure that the use of a BPO provider results in high quality performance with minimal business risk and at an attractive price point. While these strategies apply to any outsourcing arrangement, the focus of this article is on physicians' revenue cycle management processes, which include coding, billing, accounts receivable, payment processing, credentialing, etc.
Understanding the Risks:
Joe Seale, President of Orion HealthCorp recently explained to a prospect that the biggest obstacle businesses have to overcome to make the decision to outsource a physician's revenue cycle management business process is the "fear of the unknown". I know from firsthand experience that Mr. Seale is spot on with his observation. The first step in any outsourcing decision must be a complete understanding of the risks involved with the transaction. Once the risks are understood and quantified, the appropriate risk mitigation strategy can be adopted to ensure that the risks will remain within acceptable limits. Clearly the risks vary based on the BPO transaction(s) that are being contemplated. Mr. Seale suggests that the following risks are the most common.
Quality: Will the BPO deliver the same or superior quality to the internal process (or the previous supplier)?
Consistency: Will the BPO deliver the quality all the time, every time?
Transparency: Will we know what is going on at the BPO and be able to intervene proactively to mitigate possible negative situations?
Control: Will we lose control of our business and be at the mercy of a third party?
Liability: Will the BPO cause a situation for which we will be held accountable?
Costs: Will costs remain within the expected range, or are there hidden costs?
Client Loss: Will the BPO "pirate" or alienate our client base?
BPO Viability: Will the BPO remain viable and able to continue delivering superior service?
Dispute Resolution: In the event of a dispute; what is the dispute resolution process?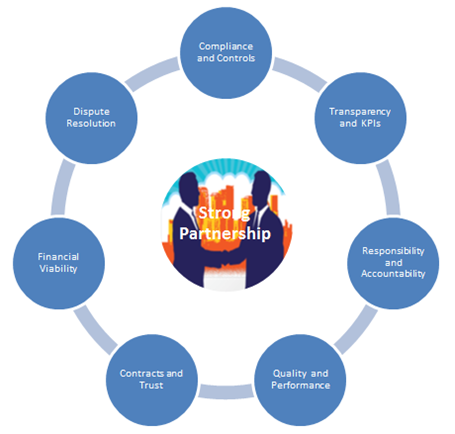 Risk Mitigation Strategies:
Service Level Agreements (SLAs) are commonly used to ensure high quality and consistent performance. The most important issue is to establish mutually agreed upon standards of performance and how the standards will be measured. Typically an SLA specifies bonus and penalty provisions for exceeding standards or not meeting expectations. Reasonable ranges of performance are established based on key performance indicators (KPIs) which are measured continuously and reported on a regularly scheduled period (weekly, monthly, quarterly, etc.). In my experience carefully designed SLAs and continuous monitoring of performance reports eliminate most concerns regarding outsourcing. If you cannot agree on SLAs it is unlikely that you are the right partners for the relationship being contemplated.
Management Reporting and Business Intelligence provided by the BPO can ensure a certain level of transparency; however, I have seen examples where the management reporting was not consistent with the system level reporting, which was not provided to clients. The most famous or rather infamous example of inconsistent reporting was the Bernie Madoff financial management scandal. There are several ways to ensure that your practice is protected from this lack of transparency. We strongly suggest that you request on-line access to the base system supporting your business. Billing, Accounting, HR, Payroll, etc. systems should be able to allow your practice on-line access at least in a read-only mode so that you can randomly verify the reporting summaries provided by the management and business intelligence reporting. Another component of the transparency strategy is a third party audit performed on some regular basis. The audit should be welcomed and supported by the BPO, since an audit that validates their performance and accuracy is one of the best marketing tools available to them. My word of advice in this area is to thoroughly review all reports that will be provided as part of the partnership to ensure that the transparency you require will be available out of the box. Waiting until after the partnership has been established may result in development costs to create custom reports, or even worse to learn that there is no way to provide access directly to the system of record.
Control is very important, since this is still your business. It is critical that the areas you will have control over and the extent to which that control can be exercised be clearly specified in the contract, signed by both parties. The areas that should be considered are listed below:
Skills required for each position,
Review of resume/CV prior to hiring or working on your account,
Ability to request the removal of an individual from a position or from your account entirely,
Ability to provide feedback directly to BPO staff,
Participation in training new recruits or existing employees who need remedial training,
Feedback to management on performance issues of staff and management alike
Perhaps the most important part of control is clearly defining the terms and conditions of the agreement and how the contract can be amended, canceled, or extended. The contract must clearly address how disputes are to be resolved. This normally includes an issue escalation process that details an appeals process to increasing levels of management and a response time for each management level, based on the criticality and priority of the issue. The issue resolution/escalation process should include penalties for both sides if they fail to follow the agreed upon process. It is critical that you consult a lawyer who has expertise with BPO agreements to ensure that you cover all contingencies and possible disputes. Your legal counsel should also ensure that the contract has robust safe guards that limit your liability for issues that are beyond your control and that the BPO is properly insured to protect your interests.
Cost containment is an important issue. One of our newly acquired companies shared their outsourcing bill with me for the month of June. After a quick review of the billing it became clear that the BPO they were using had found a loop hole in the contract to increase their billing revenue, without increasing their deliverables. By making the contract billing based on committed FTE instead of transactions performed, the costs remained the same, even as the volume of work decreased. Ensuring that the cost of services are based on measurable deliverables and clearly address how work load increases and decreases will be managed are two important tactics to effectively manage cost escalation. The contract should also provide limits on cost escalation in the future, limiting the rate of salary increases. In fact by defining an agreeable format for future negotiations, many uncertainties regarding future costs can be mollified.
The entire question of client loss should be clearly addressed with non-compete agreements and SLAs that include client satisfaction as part of the KPIs. More important than non-compete agreements are solid management relationships that build trust and provide mechanisms to share the fruits of successful partnership and client base growth and stability.
The final area of concern, BPO viability is not just a concern when considering the selecting a partner, it must be a concern for the duration of the partnership. A BPO that is struggling for survival is not a trustworthy partner. Certainly you must require the potential partner to provide audited financials prior to signing the initial contract; however, BPO best practices also include on-going reviews of BPO finances to ensure that your partner is remaining healthy and viable. No partnership can be successful if one of the partners is critically weak financially.
Summary:
It is clear that the competitive environment in the healthcare industry today necessitates the use of outsourcing physicians' revenue cycle management processes. To make the use of BPOs less risky and create strong partnerships that can grow with your business a good risk mitigation strategy is required; however before you can create the risk mitigation strategy, you first must ensure that you have identified all the risks properly. Don't feel that you are alone or a pioneer in this outsourcing effort, many others have outsourced business processes already. Talk to your associates, ask for references from the BPO, talk to their current and past clients to ensure that their service is as advertised, ask for professional assistance from healthcare management consultants to ensure the transition to the new business model is successful, and finally, do not forget to seek legal advice.
Paul Parmar

is a thought leader in the Private Equity Space. His primary focus is on transforming industries by creating new business models and optimizing the key business processes in each business and leveraging the appropriate technologies. Although he has successfully owned and managed businesses in several industries (the Healthcare, Private jet industry, the media and entertainment, and Real Estate development) his passion is clearly in the healthcare industry. His Healthcare investments are in the areas of Cancer Centers, Free Standing Surgery Centers, EMR, Patient Portal, Practice Management, RCM Services, RCM software, and GPO's for Physicians. Most recently he has turned his sights on dramatically reducing the cost of healthcare by investing in medical practice management. Mr. Parmar's most recent investments in healthcare are focused on optimizing the business practices, improving the financial transparency and lowering the cost of operations for hospitals and large medical practices.
Pegasus Blue Star Fund

is a private equity fund specializing in Healthcare Services Investments, with 20+ years of experience of investing and managing Healthcare Services companies in the areas of Cancer treatment centers, Surgery centers, Practice management, Medical Group Purchasing Organizations, EHR, Medical Revenue Cycle Management, Patient Portal, Claims Optimization, Claims Authorization, Patient collections, Bad debt collections etc.