Pegasus Knowledge Center

Creating a Technology Plan for your Healthcare Practice
For well over 30 years businesses have been creating comprehensive Information Technologies Investment Plans to help them remain competitive in their industry. These plans identify industry trends and impacts of new technologies to ensure that their business does not fall behind and lose market share to their better prepared competitors. Most importantly, these plans help to ensure that the business captures cost savings and improved product and customer services provided by the new technologies. The plans provide roadmaps that ensure technology investments are consistent with industry trends and technology directions so that investments will be scalable and compatible with future needs. Until recently US healthcare practices felt no need for IT plans, as their practices were primarily paper based and highly manual operations. With the convergence of governmental mandates and incentives for meaningful use of EHR technology, public and private payers' mandates for electronic bill submission, and the rapidly expanding market of high quality tools to support all aspects of a healthcare practice, planning IT strategies is now a necessity. As the CEO of Pegasus Blue Star Fund, a private equity fund specializing in Healthcare Services Investments, I have over 20 years of experience investing and managing Healthcare Services companies in the areas of Cancer treatment centers, Surgery centers, Practice management, Medical Group Purchasing Organizations, EHR, Medical Revenue Cycle Management, Patient Portal, Claims Optimization, Claims Authorization, Patient collections, Bad debt collections etc. Until recently my businesses did not have IT plans. In this article I will share some of the key components of the technology plans we now mandate for all of our Healthcare businesses. I will also provide some of the key considerations that our IT planners use to develop their plans.
Information Technologies Landscape:

While it is true that each Healthcare Practice is unique and has unique business drivers, in general each practice has an environment similar to the one shown below.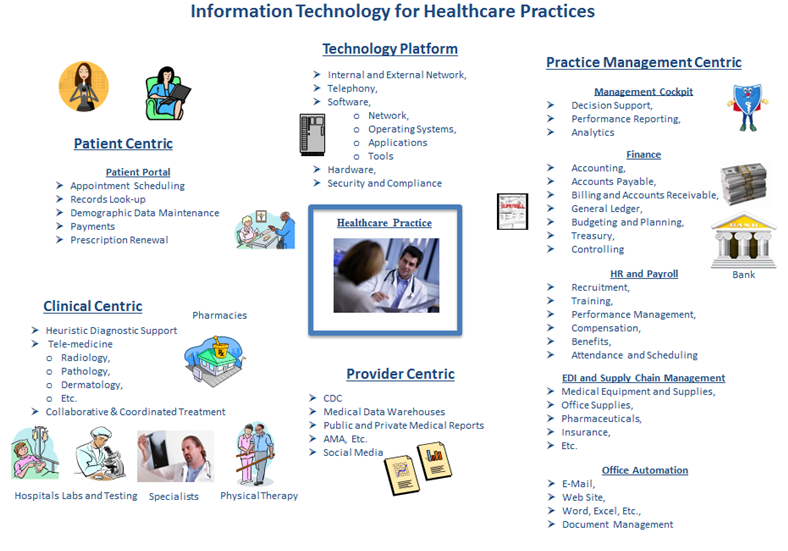 The IT Plan must consider the technology trends in each key business area and then map the business needs to an IT platform and architecture that will accommodate current needs and enable scalability to meet future needs. To help us develop a planning template that we could provide to each of our practices, we consulted with Joe Seale, President of Orion HealthCorp, the fifth largest RCM company in the US and a recognized leader in healthcare IT innovation. Mr. Seale has developed these IT planning templates for the 3 very large pediatric practices that are owned and managed by Orion and they use these templates for their RCM clients to whom they also provide practice management services. The key planning categories are listed below:
Patient Centric Applications
Clinical Centric Applications
Provider Centric Applications
Practice Management Centric Applications
Technology Infrastructure
Jamie Kerestes, Healthcare Efficiency Consultant and former CEO on North East Medical Services, a premier RCM company located in the north east, provided us with an overview of the considerations she believes are crucial to any planning exercise in each category of the template.
Patient Centric Applications include patient portals and mobile apps for scheduling and changing appointments, renewing prescriptions, paying bills, and modifying demographic information. Patient portals are also utilized for providing patient self-service for medical records access. The planning process must consider if and when these patient oriented functionalities should be made available to our patients.
Clinical Centric Applications are rapidly expanding from telemedicine applications to heuristic diagnosis and treatment applications. Providers can increasingly utilize these sources to assist with diagnosis and treatment strategies based on specific patient symptoms and health history. Electronic Health Record Systems (EHR) are now the cornerstone of many practices, as they increase in functionality and ease of use. These applications integrate with external computer systems to automate the ordering of lab tests, x-rays, MRIs, etc., follow-up diagnostics from specialists, prescriptions for drugs, physical therapy, or medical devices. These systems are designed to integrate with computer systems from hospitals and clinics in addition to other providers so that the healthcare provider can have a complete picture of all aspects of the patient's history and current treatment. The EHR systems should also be tightly integrated with the billing and patient portal systems. The planning process must consider which systems deliver the most benefits to the patient care and practice efficiency to develop a prioritized list of functionality to be implemented over time.
Provider Centric Applications are often considered unnecessary by older providers, as they are accustom to paper based channels for information acquisition; however younger providers are accustomed to on-line, real-time information. Medical Intelligence databases from the CDC, and other national and international sources are also becoming more useful and easier to use. Practices today need to plan for the adoption and use of all types of on-line information sources, including the social media. Practices that do not recognize the importance of social media and actively participate and manage the media may find that they are increasingly at a disadvantage in a market where patients carefully review the experiences of their fellow patients when deciding on which healthcare provider to trust with their healthcare needs. In many cases, this planning is more than technology; it impacts how the practice markets itself.
Practice Management Applications are rapidly becoming more important as the size of practices grow to achieve economies of scale. While Quick Books and a check book may meet the needs of a single provider office, they are inadequate for the needs of the multi-provider/multi-specialty practices that are rapidly becoming the norm today. Practices need to consider integrated practice management solutions that provide automated workflows and provide integrated functionality, eliminating redundant data entry and duplicate maintenance procedures. The areas that need to be planned are Finance, HR and Payroll, Purchasing, Office Automation (e-mail, document management, word processing, spreadsheets, etc.), and Business Intelligence and Reporting. Business Intelligence is becoming more important as practices grow in size and management is required to institute formal performance guidelines and measurements to ensure optimal business results.
Finally, the Information Technology Infrastructure must be part of the planning process. Without an integrated and holistic approach for the IT infrastructure, integration becomes an expensive and difficult undertaking. Lack of planning here also results in poor systems performance and costly upgrades in the future.
Technology Adoption Options

So far this article has addressed the key categories that must be included in the planning process and has not offered strategic advice for achieving the optimal IT plan. Prior to founding Pegasus Blue Star Fund, I was CEO and chief business architect for Pegasus Consulting Group, an Information Technology Focused Management Consulting firm competing with the "Big 6". In my role of "coach" to the CIO's and executives of our Fortune 100 clients we were called upon repeatedly to assist with the IT planning process. The most challenging planning change for many of these companies was the transition from a custom build to the use of third party solutions to meet the business needs of these large companies. For example, one of the largest financial services companies actually built their own desktop operating system, rather than use Microsoft's Windows Platform. Although the change was difficult, I was able to show the company that the huge cost of the custom solution did not provide any benefits to the company from either a performance or competitive perspective. Needless to say, their new IT plan included a transition to the Microsoft Windows Platform. The Healthcare Industry faces similar challenges today. There has been a long standing approach of customization in the industry due to the lack of robust technology to deliver the necessary functionality. Things are rapidly changing as large RCM providers, like the above mentioned Orion HealthCorp, are now able to provide comprehensive, integrated, and automated solutions at a cost point that is below the cost of internal customization. Healthcare Practices must adopt a strategy for IT planning that carefully considers the option of outsourcing parts of their operations to third party suppliers who can Often this can deliver high quality service, provide the IT platform needed, and all for less than what an internal solution would cost. The final piece of advice I want to leave with you is the technology adoption strategy. When we see all the possibilities available to the industry today there is an immediate conflict between the cost of implementing and supporting all the functionality and the desire to start taking advantage of the new solutions. My experience with the Fortune 100 companies in the late 20th century showed me that the most successful companies adopted the new technologies in a well thought out and prioritized approach. These companies prioritized the implementation based on cost benefit analysis so that the functionality that delivered the greatest returns to the business could be enabled quickly, while the less beneficial initiatives are pushed out over time. In addition to the cost benefit of each initiative, it is important to consider the impact on patients and their willingness to adopt the new processes and technology. A practice with older patients may opt to postpone patient portals a bit, while a practice with mostly young patients may choose to make the patient portal a priority. The caveat here is that even a practice with older patients needs to adopt the patient portal, or they will be at a competitive disadvantage in attracting new, young patients to the practice.
Summary:

Information Technology is rapidly improving the way the Healthcare Industry operates and the practices who wish to remain cost competitive and stay in touch with the younger generation of patients will have to adopt the emerging technologies. Practices that do not plan for the implementation of the new technologies will most likely end up with sub optimal and costly solutions, while practices who plan their technology implementation and consider strategic outsourcing as an integral part of their solution will have much more successful and cost effective solutions.
Paul Parmar

is a thought leader in the Private Equity Space. His primary focus is on transforming industries by creating new business models and optimizing the key business processes in each business and leveraging the appropriate technologies. Although he has successfully owned and managed businesses in several industries (the Healthcare, Private jet industry, the media and entertainment, and Real Estate development) his passion is clearly in the healthcare industry. His Healthcare investments are in the areas of Cancer Centers, Free Standing Surgery Centers, EMR, Patient Portal, Practice Management, RCM Services, RCM software, and GPO's for Physicians. Most recently he has turned his sights on dramatically reducing the cost of healthcare by investing in medical practice management. Mr. Parmar's most recent investments in healthcare are focused on optimizing the business practices, improving the financial transparency and lowering the cost of operations for hospitals and large medical practices.
Pegasus Blue Star Fund

is a private equity fund specializing in Healthcare Services Investments, with 20+ years of experience of investing and managing Healthcare Services companies in the areas of Cancer treatment centers, Surgery centers, Practice management, Medical Group Purchasing Organizations, EHR, Medical Revenue Cycle Management, Patient Portal, Claims Optimization, Claims Authorization, Patient collections, Bad debt collections etc.