Pegasus Knowledge Center

Impact of Increasing Patient Responsibility on Healthcare Practices
The healthcare industry has been dealing with increasing amounts of bad debt, mostly due to inadequate collections from patients. As patients elect insurance with higher deduction amounts and larger co-pay amounts, the importance of ensuring the complete collection of the patient responsibility portion of the charge increases proportionately. Many articles have been written by authors who make the assumption that because the current trend is for the healthcare industry to incur bad debt in proportion to the amount of patient responsibility for the payment. This article makes the case that the healthcare industry is capable of changing that trend and actually improving the percentage of patient payment collected by healthcare providers.
As the CEO of Pegasus Blue Star Fund, a private equity fund specializing in Healthcare Services Investments, I have over 20 years of experience investing and managing Healthcare Services companies in the areas of Cancer treatment centers, Surgery centers, Practice management, Medical Group Purchasing Organizations, EHR, Medical Revenue Cycle Management, Patient Portal, Claims Optimization, Claims Authorization, Patient collections, Bad debt collections etc. Based on my extensive experience with patient and bad debt collections, I developed a comprehensive strategy that if it were adopted by all healthcare practices, would dramatically reduce or possibly reverse the trend in bad debt. The bad debt reduction strategy has four components:
Use of increased patient interaction from billing company,
Increased effort to collect from patient at office,
Use of Technology to collect debt,
Improved partnership with debt collection services.
Traditionally billing companies have had a weak patient payment collection process because the cost of the process far outweighs the payment to the billing company. For example; if a patient has a $10 co-pay and they pay the $10 after receiving a bill from the billing company, the billing company receives $.50 from the practice. Clearly, the billing company is not incented to put a lot of energy and investment into collecting these small amounts. As the patient amounts increase the billing company is in a better position to invest more time, energy and technology in the process. Joe Seale, president of Orion HealthCorp has seen a great deal of improvement in patient payments by implementing the following changes in the patient billing process at Orion:
The patient receives a notice in the mail after 20 days indicating the amount owed and providing alternatives for paying the bill; check via mail, credit card via mail, phone, or web site.
The patient receives an automated call indicating that they have outstanding bills with their healthcare provider and they are given options for paying while still on the phone.
Orion notifies the healthcare provider that the patient has an overdue balance and suggests that the practice request payment when they come for their next appointment.
Orion automatically sends out two more overdue balance notices and another automated call if the payment is not made.
The final notice, which is sent after the payment is 120 days overdue, serves as notification to the patient that their account is being sent to a collections agency if payment is not received immediately.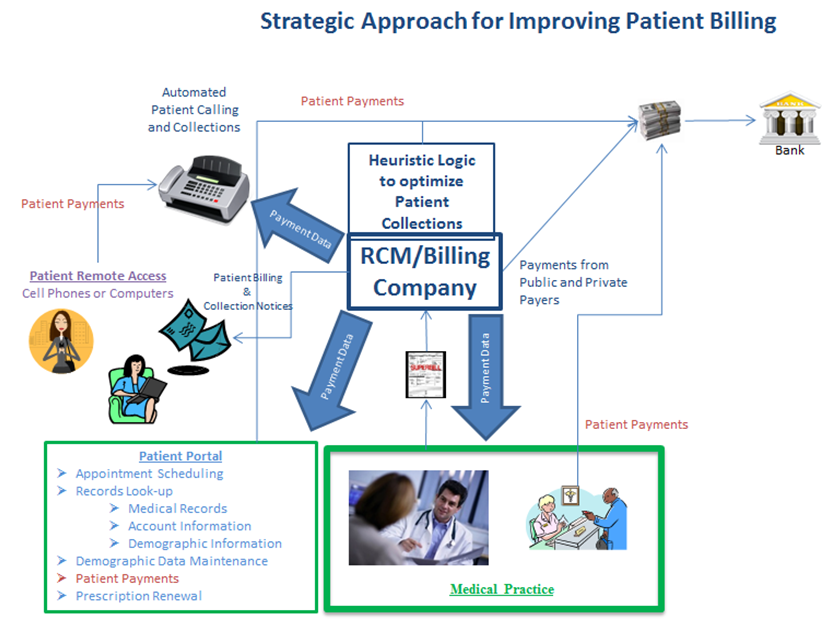 For the purposes of this article we have simplified our process somewhat to protect our proprietary logic that is embedded in the automated processes. The proprietary logic consists of algorithms and heuristic programming designed to differentiate the actions that are taken for each patient based on a complex series of criteria; such as patient ability to pay, debt amount, patient relationship to practice, credit history, etc. This logic ensures that the healthcare practice, RCM company, and collections companies are making the best possible business decisions and optimizing the entire patient collections process.
While these measures help significantly, the strategy that I have developed includes two additional critically important components. We use technology to tightly integrate the practice EHR or scheduling system with our billing system so that the practice scheduler can see at the touch of a key the status of the patient's account and use the scheduling process as a mechanism to urge patients to make their payments on or before the appointment date, or their appointment will be canceled. For our clients using patient portals we have provided them with the same integration so that they can notify the patients on-line of the missing payments. A key component of this entire payment follow-up process is the wording and tone of the messages that are delivered to patients. The messages are crafted to be very polite, respectful, and helpful. The staff is carefully trained to avoid the appearance of judgment or disrespect. Additionally, each encounter includes an offer to work with the patients to help them structure a payment schedule that fits their budget. I also urge each of our clients to adopt a pre-appointment process that includes checking the patient account along with all other patient demographic data. Due to our extensive integration we have made all of these process changes seamless and easy for the practice staff to learn and implement. In fact; all of these business practices were first piloted and implemented at medical practices owned by my companies, to ensure that they can be adopted quickly and easily.
The final component of the strategy is establishing a partnership with a billing company. While it is a clear conflict of interest for a billing/RCM company to have a collections business, assisting a healthcare practice to establish a partnership with a collections company is a welcome service. There are many collections services in the market today, and across the country there are collections companies that are willing to partner with medical practices at much reduced rates based on automated feeds from the billing system so they can begin their collection process earlier in the cycle and with far less startup cost.
In summary, medical billing companies that adopt a version of my comprehensive patient billing strategy will not only reduce bad debt, they will lower collection costs and increase patient satisfaction. The strategy combines the use of technology to automate patient contacts and payment collections and reporting, with improved patient collection process at the healthcare practice and also at the RCM/billing Company, and establishing a cost effective partnership with a quality collections company. Adopting this strategy will become more critical with each passing quarter, as more patients with high deductibles and co-pays seek services. Practices that continue with business as usual will ultimately continue to experience increasing levels of bad debt and late payments. Practices that proactively adopt these strategic new processes and technology will increase their revenues and reduce their collection costs making the value of their businesses increase faster than their competitors.
Paul Parmar

is a thought leader in the Private Equity Space. His primary focus is on transforming industries by creating new business models and optimizing the key business processes in each business and leveraging the appropriate technologies. Although he has successfully owned and managed businesses in several industries (the Healthcare, Private jet industry, the media and entertainment, and Real Estate development) his passion is clearly in the healthcare industry. His Healthcare investments are in the areas of Cancer Centers, Free Standing Surgery Centers, EMR, Patient Portal, Practice Management, RCM Services, RCM software, and GPO's for Physicians. Most recently he has turned his sights on dramatically reducing the cost of healthcare by investing in medical practice management. Mr. Parmar's most recent investments in healthcare are focused on optimizing the business practices, improving the financial transparency and lowering the cost of operations for hospitals and large medical practices.
Pegasus Blue Star Fund

is a private equity fund specializing in Healthcare Services Investments, with 20+ years of experience of investing and managing Healthcare Services companies in the areas of Cancer treatment centers, Surgery centers, Practice management, Medical Group Purchasing Organizations, EHR, Medical Revenue Cycle Management, Patient Portal, Claims Optimization, Claims Authorization, Patient collections, Bad debt collections etc.